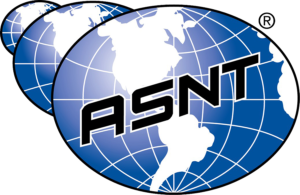 ASNT Exams
Hellier is an Authorized Examination Center (AEC) for ASNT and only serves as a proctor for the ASNT exams. All scheduling arrangements of non-practical exams are processed through Pearson VUE. All scheduling arrangements for ACCP practical exams are scheduled through Hellier NDT at tbenton@hellierndt.com. All questions regarding qualification, certification and application should be directed to ASNT.
ASNT ISQ exams are offered at our Houston location or on site at any U.S. customer location.  Scheduling is through the ASNT web site. All examinee must wear steel toed shoes and follow all local COVID rules.
---
Important Note:
ASNT Exams are not part of the Hellier courses and should be scheduled separately.
---
Please visit www.asnt.org/certification to submit an examination or payment application.
You will receive notification from ASNT that your application has been processed and approved.
You will receive notification from Pearson VUE that you are authorized to schedule your examination.
Proceed to the website https://home.pearsonvue.com/
Select "Test takers – get started now".
Locate and select "American Society for Nondestructive Testing, Inc. (ASNT)" from the list of Companies.
Follow the instructions given on the Pearson VUE site.